Greek Style Lamb Shoulder Chops w/ White beans and Eggplant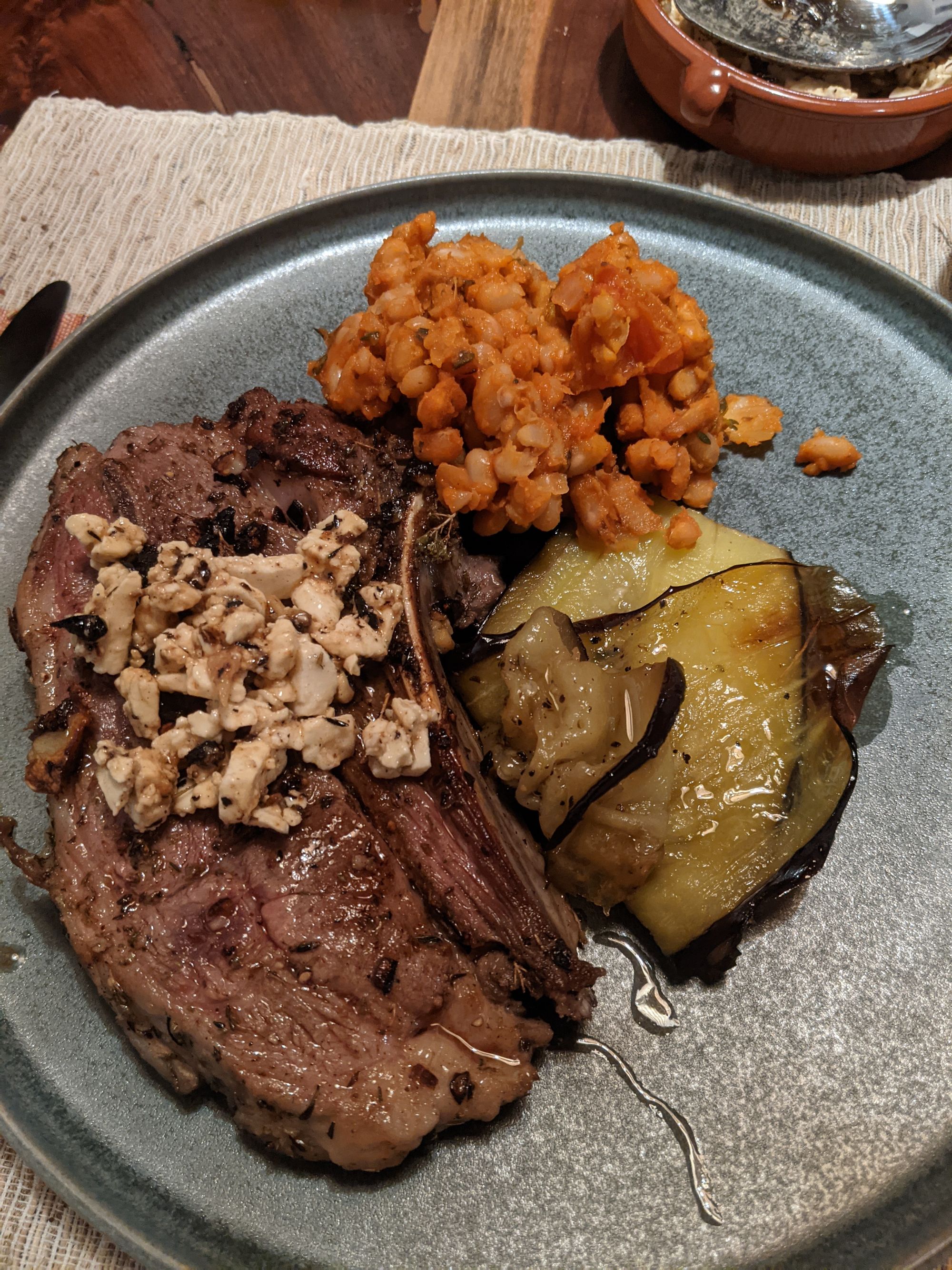 Marinade for Lamb Shoulder Chops
Greek oregano
Thyme
Minced garlic
Black Pepper
Olive Oil
Salt
Cook on a grill or cast iron. Top with Feta lightly melted in pan juices if using cast iron.
Honey Eggplant
1 Large eggplant
Honey
Salt
Preheat oven to 400 F. Line a baking sheet with a non-stick liner. Thinly slice eggplant, toss with salt. Let sit for 15 min. Drain liquids, and place eggplant on tray. Drizzle eggplant with olive oil and honey. Bake until tender and slightly crispy
White Beans
Add dry beans and water to pressure cooker and pressure cook until soft & edible
l lb White (lima or navy) beans
1 large Shallot
2 heaping tbsp Tomato paste,
Fresh tomato (if available), diced
2 tbsp Lemon
4 cloves Garlic
Thyme
Oregano
After beans are finished in pressure cooker, preheat oven to 350, prepare a baking tray lined with a non-stick surface.
Warm a sautee pan with olive oil.
Sautee shallots and garlic until soft and slightly browned. Add tomato paste, lemon, and diced tomatoes to deglaze the pan and create a simple sauce.
Add beans, stir with a wood spoon until thoroughly mixed. Pour / scrape bean mixgture onto prepared baking tray.
Bake / dehydrate beans in the oven for 20-30 min. Beans should dry out a bit and a top layer may form.