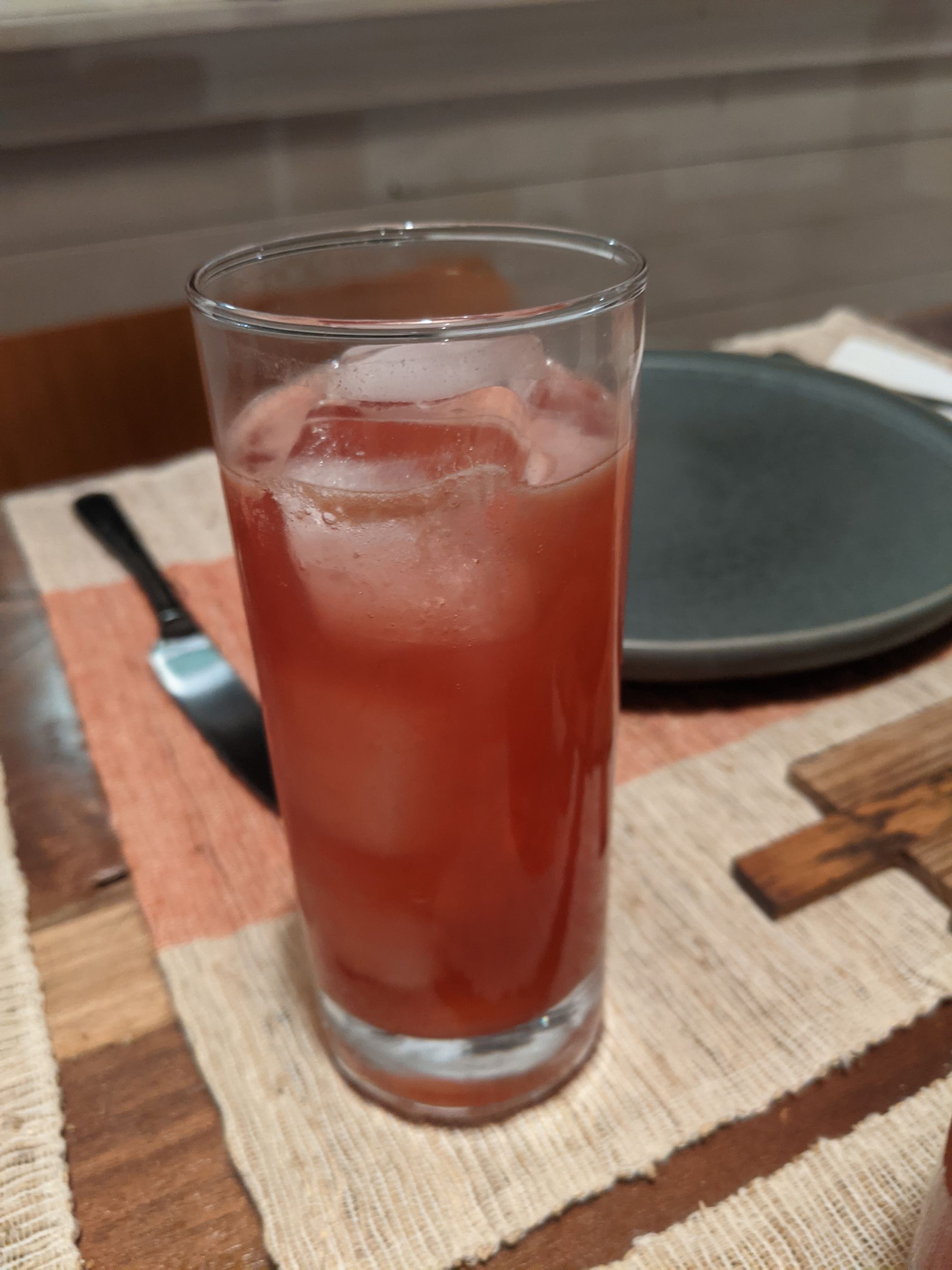 adapted from Smugglers cove cocktail book
1.5 oz of Dark rum
1 oz of Hibiscus Rum Liquer (see below)
3/4 oz of Lemon Juice
1/2 oz of maple syrup
2 oz of seltzer
Pour seltzer into a collins gass full of ice. Top a mixing tin with ice and shake all other ingredients. Strain over collins glass and stir with a cocktail spoon to mix.
Hibiscus Rum Punch Liquer
1/3 cup of honey
1/3 cup of sugar
1/3 cup of water
1 cup of Hibiscus Infused Liquor
Microwave honey in a microwave safe container until viscous (30 seconds or so). Add sugar and water to container and stir vigorously to combine. Once the syrup is at a good consistency and sugar granules are dissolved, mix with hibiscus liquor.
Rapid Hibiscus Infused Liquor
700 ml white rum
1/3 cup of Dried Hibiscus flowers
1" ginger
Prepare a bowl and a glass and set aside. Pour dry and wet ingredients into an iSi whipping siphon, and charge with 1 NO2 cartridge. Charge and shake 3 times, let sit for 2 min (use a timer).
Once 2 minutes have passed quickly move whipping siphon over bowl and discharge quickly vertically into upside down cup. Liquid wil eventually shoot out (and into the upside down cup) and then drip down into your bowl (instead of going over your sealing.
Once siphon is no longer presusred, screw off cap, and strain liquid through a fine mesh sieve. Pour newly infused liquor into an airtight receptacle and can be stored on a shelf for 6 months.